Description
Edit
A traditional side-dish alternative - you can make this with other vegetables for the gratin served for dinner. Cottage cheese works for this recipe, too while replacing the potatoes.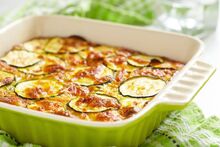 Ingredients
Edit
Directions
Edit
Butter a 10-inch pie plate or quiche pan.
Put the sliced zucchini in a medium pot and cover with water.
Bring to a boil and cook for 2 minutes; drain and rinse with cold water to stop cooking.
Arrange the zucchini in the pie plate in an overlapping circular pattern.
Season with salt and pepper between layers.
Top with Parmesan cheese and drizzle with melted butter.
Bake at 400° F for 30 minutes, then bake at 475° F for another 10 minutes until golden brown. Serve hot and plain or with other vegetables, main dishes, or side dishes but cut into squares with a kitchen knife and place the vegetable-based gratin into a small plate.
Nutritional information
Edit
Per serving:
73 Calories | 5g Fat | 4g Protein | 3g Carbohydrate | 1g Dietary Fiber | 2g Net Carbs
Ad blocker interference detected!
Wikia is a free-to-use site that makes money from advertising. We have a modified experience for viewers using ad blockers

Wikia is not accessible if you've made further modifications. Remove the custom ad blocker rule(s) and the page will load as expected.