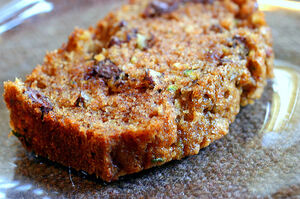 Description
Edit
Zucchini Bread is an all time favorite, filled with wonderfully aromatic spices like nutmeg and cinnamon. The summer squash is cleaned, grated, and added to your favorite breads.
Culinary directory of recipes for cooking zucchini bread.
Bread Flavors
Ad blocker interference detected!
Wikia is a free-to-use site that makes money from advertising. We have a modified experience for viewers using ad blockers

Wikia is not accessible if you've made further modifications. Remove the custom ad blocker rule(s) and the page will load as expected.