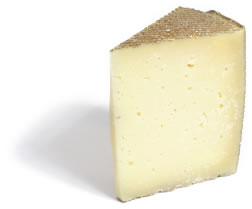 A hard textured sheep's milk cheese that originated in the Castile-Leon region of Spain. It has a flavor something like caramel that is slightly burned in combination with a grassy taste. It is cured for up to 9 months in dark, humid places to promote the growth of a gray mold that forms a hard rind over the cheese. Zamorano is best used as an hors d'oeuvre or snack cheese.
Ad blocker interference detected!
Wikia is a free-to-use site that makes money from advertising. We have a modified experience for viewers using ad blockers

Wikia is not accessible if you've made further modifications. Remove the custom ad blocker rule(s) and the page will load as expected.