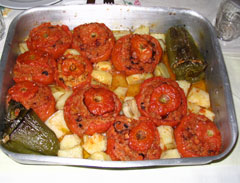 Description
Edit
Stuffed tomatoes with octopus and rice. This recipe comes from the village of Plomari in Lesvos island. Plomari is famous for its ouzo. The recipe serves 4 persons.
Ingredients
Edit
Directions
Edit
Stuffing
Edit
Add the tomato you have preserved, tomato paste, chestnuts, pine nuts, cinnamon, rice and salt and pepper for taste.
Stir well and simmer for 5 to 10 minutes.
Remove from heat and start stuffing the tomatoes with a small spoon. Do not over-stuff because the rice will gain more space during baking and the stuffing might overflow.
Ad blocker interference detected!
Wikia is a free-to-use site that makes money from advertising. We have a modified experience for viewers using ad blockers

Wikia is not accessible if you've made further modifications. Remove the custom ad blocker rule(s) and the page will load as expected.