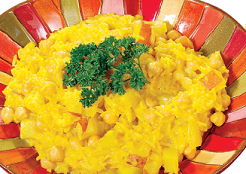 Description
Fruits and Veggies Matter Child Recipe Cards by the US Centers for Disease Control and Prevention, public domain government resource—original source of recipe
Indians eat rice with many meals. Pay careful attention when preparing this recipe to discover which spice causes the rice to turn yellow.
Cook Time: 40 minutes
Serves: 4
Ingredients
Directions
In a 3-quart saucepan over medium heat, heat oil; add onion and potato. Cook 5 minutes, stirring occasionally.
Add water, rice, salt, cumin seeds, and turmeric; over high heat, heat to boiling.
Reduce heat to low; cover and simmer 20 minutes, or until rice and potatoes are tender. During the last 5 minutes of cooking, stir in chickpeas. Serve hot with other dishes.
Tips
Basmati rice is a special, toasty-flavored Indian rice. Now, it is also grown in the United States. If you don't find it at the supermarket, use regular, long-grain rice.
Ad blocker interference detected!
Wikia is a free-to-use site that makes money from advertising. We have a modified experience for viewers using ad blockers

Wikia is not accessible if you've made further modifications. Remove the custom ad blocker rule(s) and the page will load as expected.