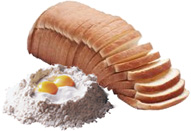 Any bread that uses as the Leavening agent. As the yeast ferments, it converts the flour's starchy nutrients into alcohol and carbon dioxide gas. The gas bubbles trapped in the elastic Gluten mesh of the dough are what make it rise. Oven heat kills the yeast and evaporates the alcohol. The gas expands in a final burst of energy and causes the bread to rise. Among the more well known yeast breads are Brioche, Croissants, French Bread and Sourdough Bread.
Ad blocker interference detected!
Wikia is a free-to-use site that makes money from advertising. We have a modified experience for viewers using ad blockers

Wikia is not accessible if you've made further modifications. Remove the custom ad blocker rule(s) and the page will load as expected.