Description
Edit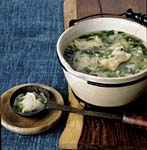 Ingredients
Edit
Directions
Edit
Place the ribs, chicken, ginger, scallions, and water in pot until the meat is tender (approximately 4-5 hours).
Chill for approximately 1-1.5 hours.
Mix together scallions, ginger, soy , vinegar, sesame oil , salt , pork , and the white pepper in a bowl.
Fill the wonton with approximately 1 teaspoon of filling. Then seal the wonton by lifting the two opposite corners together.
Cook for approximately 4-6 minutes. Pour in the bowls with the wonton soup.
Ad blocker interference detected!
Wikia is a free-to-use site that makes money from advertising. We have a modified experience for viewers using ad blockers

Wikia is not accessible if you've made further modifications. Remove the custom ad blocker rule(s) and the page will load as expected.