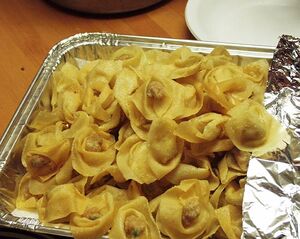 A Chinese specialty similar to an Italian ravioli. These bite-size dumplings consist of paper-thin dough pillows filled with a minced mixture of meat, seafood and/or vegetables. The dough comes prepackaged as Won Ton Skins. Won tons may be boiled, steamed or deep-fried and served as an appetizer, snack or side dish, usually with several sauces. They are, of course, intrinsic to won ton soup.
Ad blocker interference detected!
Wikia is a free-to-use site that makes money from advertising. We have a modified experience for viewers using ad blockers

Wikia is not accessible if you've made further modifications. Remove the custom ad blocker rule(s) and the page will load as expected.