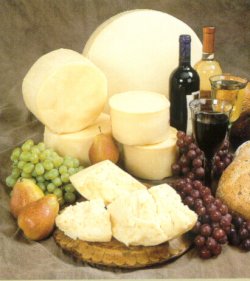 Blocks of cheese or cheese spreads that have been infused with wine to enhance the flavor of the cheese. Cabernet and merlot are commonly blended into cheeses such as cheddar, pecorino and other varieties to give the cheese a light overtone of wine and wine coloring. Cheese is often soaked in wine for a day or so taking on the tone of the wine color around the outside rind or surfaces of the cheese while the inner flesh remains the same as the natural color of the cheese. Wine infused cheese goes well as an appetizer or complements a bottle of wine nicely with bread or crackers.
Ad blocker interference detected!
Wikia is a free-to-use site that makes money from advertising. We have a modified experience for viewers using ad blockers

Wikia is not accessible if you've made further modifications. Remove the custom ad blocker rule(s) and the page will load as expected.