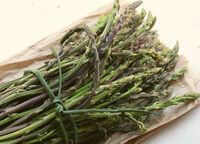 About Wild asparagus
Edit
This plant is a native asparagus species and is endemic to Western Europe. Recent evidence indicates that wild asparagus is a separate species to garden asparagus (Asparagus officinalis spp. officinalis) and not a subspecies as previously thought. The stems grow prostrately and have needle-like leaves, which reach 16 (exceptionally 24) mm long. The flowers are small and green, and produce bright red berries.
Ad blocker interference detected!
Wikia is a free-to-use site that makes money from advertising. We have a modified experience for viewers using ad blockers

Wikia is not accessible if you've made further modifications. Remove the custom ad blocker rule(s) and the page will load as expected.