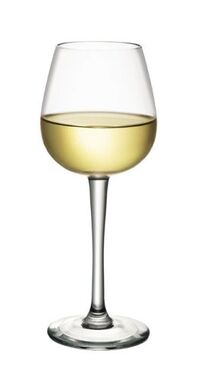 About White wine
Edit
White wines are made from the grape juice and grape skin of green, gold or yellowish colored grapes or from just the juice (not the skin) of select red grapes (as in some Champagnes).
A beverage containing alcohol, which is produced from fermented grape juice. White wine is a non-sparkling wine, which may vary in color intensity and can be dry, which is non-sweet, semisweet, or sweet. Its flavor will depend on the type of grapes that it is made from. White wines are served chilled unlike red wines, which are ideally served at 65°F (or room temperature). White wines should be served immediately after opening.
Ad blocker interference detected!
Wikia is a free-to-use site that makes money from advertising. We have a modified experience for viewers using ad blockers

Wikia is not accessible if you've made further modifications. Remove the custom ad blocker rule(s) and the page will load as expected.