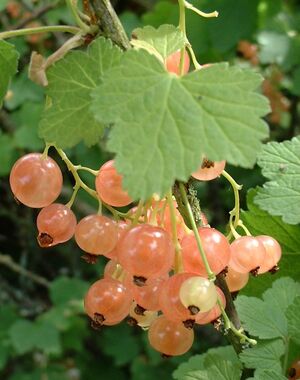 Name Variations
Edit
About White currant
Edit
White currant is a thick bushy shrub that can be found up to altitudes that reach 1,300 meters. The small currants are arranged in racemes and they have the shape of a sphere, being white or red. They are great as main ingredients in jellies, jams or syrups. Currant and gooseberry develop in trained hedges or open clusters while the flowering occurs in April and the harvesting starts in the third year and reaches its maximum in the fifth year. Some common names for currants are: Ribes in Danish, Swedish and Italian, Groseille in French, or Bes in Flemish. The currants need humid and cool areas in summer and great winter chilling in order to grow well. The leaves of this plant are single, alternate, maple-like and lobed while the flowers are self-fertile and the pollination is made by hoverflies or other insects. The fruits of white currant are translucent. Currants require a lot of water and the morning sun is excellent or their growth. These fruit are great in jelly, sauces, pies, but they can also be used in producing wines and liqueurs.
A berry, much like a small grape, native to France and northern Europe that is related to the gooseberry. Currant berries grow in cool regions amongst abundant moisture, growing as black, red, and white varieties. They are a juicy berry with a sweet to tart flavor. The white currant is the sweetest of all three varieties (white, red and black currants), providing a juicy sweet flavor for a variety of foods. The berries of the white currant are most often used for desserts, summer salads and soups, succulent sauces for poultry or pork, sweet or tart jams or sorbets, and eaten fresh, out of hand, since they have a sweeter taste.
Ad blocker interference detected!
Wikia is a free-to-use site that makes money from advertising. We have a modified experience for viewers using ad blockers

Wikia is not accessible if you've made further modifications. Remove the custom ad blocker rule(s) and the page will load as expected.