Ingredients
Edit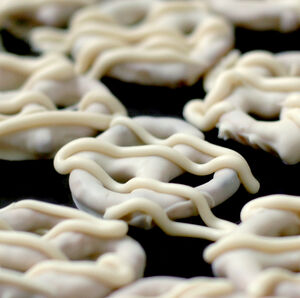 1 packet large twist pretzels or (1 dozen baked pretzels)
1 white chocolate block or (1 ¾ cup white chocolate sauce)
Directions
Edit
Remove hot water and replace with cold water in the bottom of the double boiler. Stir chocolate until thickened.
When the chocolate is thin, drop the pretzels until coated and then remove from chocolate and place them on waxed paper.
Let cool; put in a plastic bag and refrigerator.
Remove the coated pretzels from the plastic bag and serve cold and plain.
Contributed by
Edit
Ad blocker interference detected!
Wikia is a free-to-use site that makes money from advertising. We have a modified experience for viewers using ad blockers

Wikia is not accessible if you've made further modifications. Remove the custom ad blocker rule(s) and the page will load as expected.