Description
Edit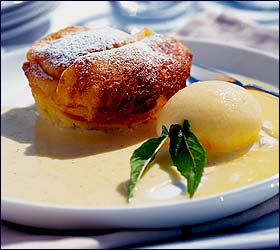 Serves 4
Ingredients
Edit
Directions
Edit
Grease 4 ovenproof serving bowls.
Cut crusts off the bread, spread the butter over the slices and cut each into 4 triangles.
Place four triangles into each serving bowl, sprinkle with some brown sugar and the raisins.
Place remaining triangles on top and sprinkle with the rest of the Sugar.
Whisk the eggs, add the warm milk and vanilla Sugar, whisk again and pour the mixture over the bread.
Sprinkle with mixed spice.
Place bowls on a baking tray and bake for 15 – 20 minutes at 220 °C (425 °F) in preheated oven.
Pour over pudding.
See also
Edit
Ad blocker interference detected!
Wikia is a free-to-use site that makes money from advertising. We have a modified experience for viewers using ad blockers

Wikia is not accessible if you've made further modifications. Remove the custom ad blocker rule(s) and the page will load as expected.