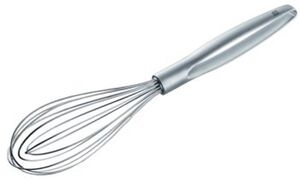 About Whisk
Edit
Also called a whip, this kitchen utensil consists of a series of looped wires forming a three-dimensional teardrop shape. The wires are joined and held together with a long handle. Whisks are used for whipping ingredients (such as cream, eggs, sauces, etc.), thereby incorporating air into them. They come in different sizes for different tasks and are most often made of stainless steel or tinned steel.
Ad blocker interference detected!
Wikia is a free-to-use site that makes money from advertising. We have a modified experience for viewers using ad blockers

Wikia is not accessible if you've made further modifications. Remove the custom ad blocker rule(s) and the page will load as expected.