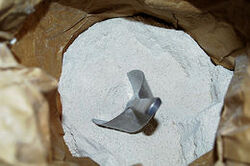 About Wheat flour
Edit
Wikipedia Article About Wheat Flour on Wikipedia
The vast majority of today's flour consumption is wheat flour.
Wheat varieties are typically known as, variously, "white" or "brown" if they have high gluten content, and "soft" or "weak flour" if gluten content is low. Hard flour, or "bread" flour, is high in gluten and so forms a certain toughness that holds its shape well once baked. Soft flour is comparatively low in gluten and so results in a finer texture. Soft flour is usually divided into cake flour, which is the lowest in gluten, and pastry flour, which has slightly more gluten than cake flour.
Ad blocker interference detected!
Wikia is a free-to-use site that makes money from advertising. We have a modified experience for viewers using ad blockers

Wikia is not accessible if you've made further modifications. Remove the custom ad blocker rule(s) and the page will load as expected.