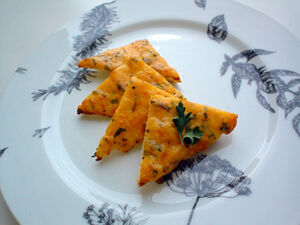 This popular British dish consists of a melted mixture of cheddar cheese, beer (sometimes ale or milk) and seasonings served over toast. The cheese mixture can also be toasted on the bread. Welsh rabbit is usually served as a main course or for High Tea, often accompanied with tomatoes. Welsh rabbit becomes a golden buck when topped with a poached egg.
Also sometimes called "Welsh rarebit".
Ad blocker interference detected!
Wikia is a free-to-use site that makes money from advertising. We have a modified experience for viewers using ad blockers

Wikia is not accessible if you've made further modifications. Remove the custom ad blocker rule(s) and the page will load as expected.