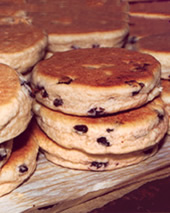 Prep Time:
Cook time:
Serves: 12-15 cakes
Description
Edit
"Pice ar y maen" are slightly different from all other girdle (or griddle) cakes and scones because they are a little firmer, these are always known as 'Welsh cakes' whether they are served in Wales or anywhere else. They were originally served to cold, tired and hungry travellers, on their arrival at an inn, while waiting for supper.
Ingredients
Edit
Directions
Edit
Sift together the flour and salt and rub in the butter.
Stir in the sugar and the fruit.
Whisk the egg and add to the mixture.
Then knead it to a firm dough, using a little milk if necessary.
Roll out to 5 mm ( ¼ inch) thickness and cut in 7.5 cm (3 inch) circles.
Slip onto a hot griddle or put in a preheated heavy frying pan and cook on each side, turning once, until golden brown.
Sprinkle each cake with sugar and put a dab of butter on each.
Serve on a hot dish.
Ad blocker interference detected!
Wikia is a free-to-use site that makes money from advertising. We have a modified experience for viewers using ad blockers

Wikia is not accessible if you've made further modifications. Remove the custom ad blocker rule(s) and the page will load as expected.