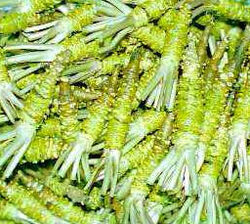 About Wasabi
Edit
Wikipedia Article About Wasabi on Wikipedia
Wasabi (Japanese: 山葵 or 和佐比; Wasabia japonica, Cochlearia wasabi, or Eutrema japonica) is a member of the cabbage family. Known as Japanese horseradish, its root is used as a spice and has an extremely strong flavor. Its hotness is more akin to that of a hot mustard than a chile pepper, producing vapors that burn the sinus cavity rather than the tongue. The plant grows naturally along stream beds in mountain river valleys in Japan. There are also other species used, such as W. koreana, and W. tetsuigi. The two main cultivars in the marketplace are W. japonica var. Duruma and Mazuma, but there are many others.
Ad blocker interference detected!
Wikia is a free-to-use site that makes money from advertising. We have a modified experience for viewers using ad blockers

Wikia is not accessible if you've made further modifications. Remove the custom ad blocker rule(s) and the page will load as expected.