Description
Edit
This Walnut and Oregano Velouté is light and creamy, full of delicious nutty flavor w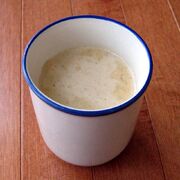 ith a touch of aromatic sweetness of oregano. It is great as a soup and also can be used as a sauce for pasta or ravioli. This version is vegetarian, and a vegan version can easily be created with butter and cream substitutes.
Ingredients:
Edit
Directions:
Edit
In a food processor, place walnuts and oregano and mix until the the walnuts are finely ground. Add to a pot and cover with stock. Bring to boil and then turn the heat to very low.
Meanwhile, heat butter in another pot until just starts to foam, then swirl in the flour and stir until a paste forms (do not brown). Add the walnut and stock mixture slowly, stirring, and cook for about 1 minute or until the mixture is smooth and just starts to thicken. Strain through a fine mesh strainer.
Add cream, season with salt and pepper to taste, and blend with an immersion blender.
Ad blocker interference detected!
Wikia is a free-to-use site that makes money from advertising. We have a modified experience for viewers using ad blockers

Wikia is not accessible if you've made further modifications. Remove the custom ad blocker rule(s) and the page will load as expected.