Ad blocker interference detected!
Wikia is a free-to-use site that makes money from advertising. We have a modified experience for viewers using ad blockers

Wikia is not accessible if you've made further modifications. Remove the custom ad blocker rule(s) and the page will load as expected.
Description
Edit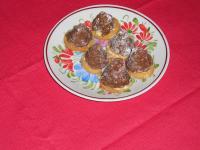 Czech Christmas sweets. This is as common in the Czech Republic as Mexican wedding cakes / Russian tea cakes are in the USA. One does need a bee hive form, but one can use an empty chamber from a grocery store cardboard egg carton.
Ingredients
Edit
Directions
Edit
Set the 25 whole vanilla wafers aside.
Add powdered sugar, butter, rum, water, and cocoa.
Mix ingredients.
In a small bowl mix filling ingredients together.
Dust the inside of the bee hive form with powdered sugar, then press in a small ball of dough.
Make a hole in the dough with your finger or end of a wooden spoon.
Add enough filling to the hole, with a spoon, to fill the cavity.
Carefully tap the hive out of the form and set it atop a whole vanilla wafer.
You must experiment to find out how much powdered sugar one needs to dust the form with, so that the hive slips out easily.
If you have no bee hive form, use an empty chamber from a grocery store cardboard egg carton.
Store in a cool place, remembering you have raw egg in the filling.