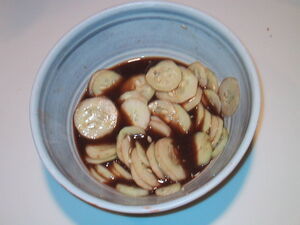 One of the five mother sauces, vinaigrette is a basic oil-and-vinegar combination, generally used to dress salad greens and other cold vegetable, meat or fish dishes. In its simplest form, vinaigrette consists of oil, vinegar (usually 3 parts oil to 1 part vinegar), salt and pepper. More elaborate variations can include any of various ingredients such as spices, herbs, shallots, onions, mustard, etc.
Ad blocker interference detected!
Wikia is a free-to-use site that makes money from advertising. We have a modified experience for viewers using ad blockers

Wikia is not accessible if you've made further modifications. Remove the custom ad blocker rule(s) and the page will load as expected.