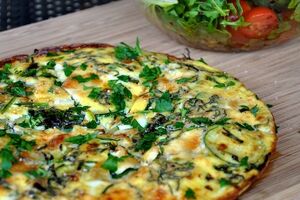 Description
Edit
This frittata is great by itself or with some fruit on a Sunday morning.
Ingredients
Edit
Directions
Edit
In a large bowl, whisk egg substitute, milk, salt, and pepper until blended.
Stir in cheese, asparagus, and peas.
Preheat broiler.
Coat nonstick frying pan with olive oil-flavored cooking spray.
Melt margarine in the pan.
In medium heat, carefully pour in egg mixture.
Lift edges as egg firms and allow uncooked egg to flow under until the bottom is golden brown and the center is still little runny, about 3 to 4 minutes.
Shake frying pan occasionally, making sure frittata isn't sticking to bottom.
Place pan under the broiler for1 to 2 minutes, until top of frittata is light golden brown.
Invert onto a serving dish or serve from the pan.
Cut into wedges.
Nutritional information
Edit
Per serving:
114 Calories | 7.4g Total Carbs | 2.9g Total Fat | 1g Saturated Fat | 5.5mg Cholesterol | 14.4g Protein | 2610mg Sodium
Exchanges: ½ starch | 2 meat
Ad blocker interference detected!
Wikia is a free-to-use site that makes money from advertising. We have a modified experience for viewers using ad blockers

Wikia is not accessible if you've made further modifications. Remove the custom ad blocker rule(s) and the page will load as expected.