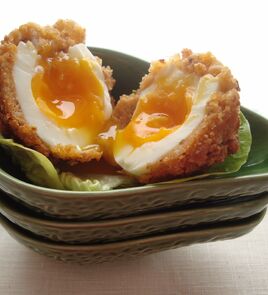 Prep Time: 20 minutes
Cook time: 12 minutes
Serves: 4
Description
Edit
This vegetarian version of the classic containing sausage meat is a bit like all-in-one egg soldiers - a runny yolk encased in crispy fried fresh breadcrumbs with the addition of some fresh chopped herbs. Delicious for breakfast or brunch.
Ingredients
Edit
Directions
Edit
Preheat the oven to 325 °F/170 °C. Place 4 of the eggs in a pan and cover completely with cold water. Heat over a high heat until boiling then reduce the heat and simmer for 4 minutes. Cool in cold water before peeling.
Whisk the remaining egg. Combine the chopped herbs with the breadcrumbs and season. Gently roll each boiled egg in flour, then the egg mixture then the breadcrumbs.
Put the oil in a pan to a depth of 2 inches/5 cm and heat. Fry the eggs until golden, turning so as not to burn - for about 2-3 minutes. Remove the eggs with a slotted spoon and place in the oven in an ovenproof dish to heat through for about 3-4 minutes.
Ad blocker interference detected!
Wikia is a free-to-use site that makes money from advertising. We have a modified experience for viewers using ad blockers

Wikia is not accessible if you've made further modifications. Remove the custom ad blocker rule(s) and the page will load as expected.