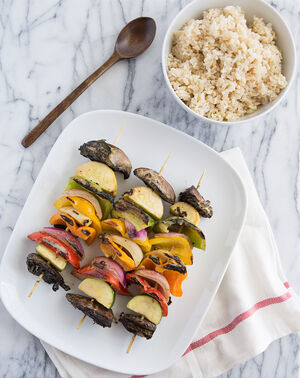 Ingredients
Edit
Peanut pesto
Edit
Directions
Edit
Prepare a hot grill.
Skewer the slices individually.
The shiitakes should have a scallion on each side.
Lightly oil and season the satays and on a hot grill, mark and criss-cross both sides, about 4 to 5 minutes total.
In a food processor, add 2 cups peanuts, shallots, garlic, chiles, kaffir, and lemon grass and puree smooth.
Add sugar, lime juice and season.
Drizzle in remaining oil then add the herbs.
Check for seasoning.
Lay a bed of peanuts on a large plate.
Serve the pesto in a bowl and surround with satays.
Garnish with extra kaffir leaves or lemongrass.
Ad blocker interference detected!
Wikia is a free-to-use site that makes money from advertising. We have a modified experience for viewers using ad blockers

Wikia is not accessible if you've made further modifications. Remove the custom ad blocker rule(s) and the page will load as expected.