Description
Edit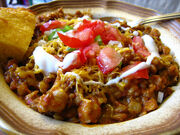 This is a slightly different variation of a traditional Vegetarian Chili recipe. Many of the ingredients (beans, spices, vegetables) can be modified to meet your tastes.
This recipe can be made in a stove top pot or in a crock pot. If using a crock pot, you can increase cooking time to 4 hours.
Ingredients
Edit
Directions
Edit
Heat olive oil in pot over low flame
Add garlic, onion, carrots and peppers to a pot and simmer on low for 20 minutes
Add corn, beans, tomatoes and spices to taste
Cook on high for 30 minutes
Lower heat and cook for 2 hours
Serve hot with shredded cheese (or other desired) topping.
Ad blocker interference detected!
Wikia is a free-to-use site that makes money from advertising. We have a modified experience for viewers using ad blockers

Wikia is not accessible if you've made further modifications. Remove the custom ad blocker rule(s) and the page will load as expected.