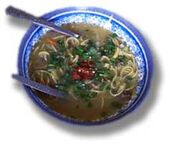 Ingredients
Edit
Directions
Edit
Cook noodles in boiling salted water until slightly undercooked. Drain and rinse.
In a sauce pan heat 2 tablespoons of mustard oil.
Add onions, fry till light brown.
Stir well for 1 minutes.
Put the assorted vegetables and stir-fry well, about 5 minutes.
To the vegetable mixture add tomatoes, soy sauce, yogurt, broth, jwanu, bay leaf, salt and pepper and cook until vegetables are tender.
Add the noodles and stew for 5 more minutes or until nice consistency of the sauce is attained.
At last, add spinach and fold into the stewed noodles for a minute or so, until wilted.
Garnish with chopped cilantro.
Serve with roti.
Ad blocker interference detected!
Wikia is a free-to-use site that makes money from advertising. We have a modified experience for viewers using ad blockers

Wikia is not accessible if you've made further modifications. Remove the custom ad blocker rule(s) and the page will load as expected.