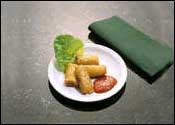 Ingredients
Edit
Directions
Edit
Knead the dough using all the ingredients and keep it aside for ½ hour in a thick bottomed pan.
Fry for 1 minute, then add the cubed vegetables and ginger - garlic paste, soy sauce, aginomoto and salt.
Cook for three minutes.
Let it cool.
Now roll the dough like a thin chapathi.
In the middle of the chapathi place the vegetable stuff and roll it.
Paste it with little water.
Now fry it in oil till it turns golden brown.
Serve hot with tomato ketch-up.
Ad blocker interference detected!
Wikia is a free-to-use site that makes money from advertising. We have a modified experience for viewers using ad blockers

Wikia is not accessible if you've made further modifications. Remove the custom ad blocker rule(s) and the page will load as expected.