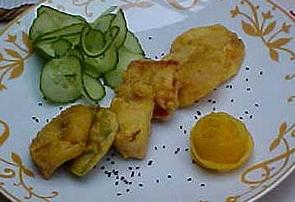 Ingredients
Edit
Directions
Edit
Coarsely grate each of the vegetables separately.
Meanwhile also add salt, pepper, lemon juice and chilli (optional).
Heat oil in frying pan. Drop level tablespoonsful of mixture into pan. Cook on both sides until crisp.
Drain on absorbent paper.
Serve with Salsa Dipping Sauce.
Place all ingredients in a food processor or blender. Process until smooth.
Ad blocker interference detected!
Wikia is a free-to-use site that makes money from advertising. We have a modified experience for viewers using ad blockers

Wikia is not accessible if you've made further modifications. Remove the custom ad blocker rule(s) and the page will load as expected.