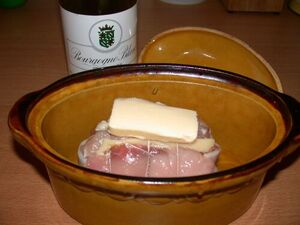 This classic presentation begins with a braised loin of veal carved into even horizontal slices. Each slice is spread with a thin layer of pureed sautéed mushrooms and onions. The coated slices are stacked back in place and tied together to reform the loin. Then the layered loin is smothered with additional mushroom-onion purée, topped with Béchamel sauce and grated Parmesan cheese and oven-browned for about 10 minutes.
Ad blocker interference detected!
Wikia is a free-to-use site that makes money from advertising. We have a modified experience for viewers using ad blockers

Wikia is not accessible if you've made further modifications. Remove the custom ad blocker rule(s) and the page will load as expected.