Boiled and roasted eggs were cooked in a spicy onion-tomato gravy. The sweetness from onion and tomatoes blends exotically with the Garam masala and spice powders. The more the onions were, the tastier the dish turns out to be. A wonderful mix of sweetness and spiciness leaves through the tongue at every spoonful of rice and curry.
Indian egg curry can be served with rice/Indian flat bread/ white bread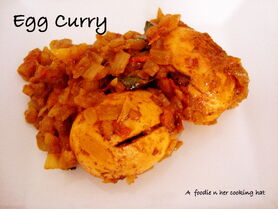 Ingredients
6 boiled eggs
2 tomatoes - finely chopped
3 onions - finely chopped
2 tsp ginger-garlic paste
2 tsp turmeric powder
½ tbs chilli powder
½ tbs corainder powder
2 tsp cummin powder
1 tbs oil1 cup water
1 tbs curry leaves - chopped
salt to taste
For the egg roast
¼ tbs chilli powder
1 tsp turmeric powder
½ tbs corainder powder
1 tsp cummin powder
1 tsp salt
3-4 spoons water
For the masala
1 tsp fennel seeds
2 cardamon
2 cloves
½" cinnamon stick

Method
Deshell and cool the boiled eggs. Make slits across the eggs such that they are not broken and the shape is retained. Mix the egg roast spices into a thick paste and apply it over the eggs. Sliding a little through the incisions. Fry them with 1/2 tbs spoon oil on a small kadai. Keep the roasted eggs aside.
Heat oil in a kadai. Once they are heated up, throw in the whole masalas, curry leaves and let them splutter. Add the onions and let it sweat. Sprinkle little salt over and cook them covered for 5-10min on a medium flame. Keep an eye on it and don't let it burn. When the onions brown, add the ginger-garlic paste and cook till the raw smell disappears. Throw in the chopped tomatoes and cook them for another 5-8 min.
Add the turmeric powder, chilli powder and coriander powder to the onion-tomato mix. Saute till the raw smell disappears and the oil separates out of the mixture. Add 1 cup water and cook covered for 5 min. Add extra 1/2-1 cup water, (if needed) and cook till they are done. Now add the roasted eggs and spoon the curry through the incisions and continue cooking. Sprinkle the cummin powder and adjust salt to taste. Serve hot with rice/roti/chapati/dosa/appam or even simple bread.
Ad blocker interference detected!
Wikia is a free-to-use site that makes money from advertising. We have a modified experience for viewers using ad blockers

Wikia is not accessible if you've made further modifications. Remove the custom ad blocker rule(s) and the page will load as expected.