Grilled Chicken Breasts are very simple to make and are very tasty. Not just only tasty, it is healthy as well. If you are a gym goer often spend your time at gym, make sure you restore the body after strenuous activity.
Grilled Chicken Breast is very supportive for intense workouts, helps you to maintain balance and avoids high oxidative stress levels.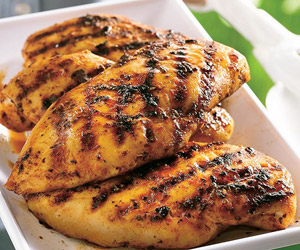 However, to add more health benefits, you can prepare it with
Extra Virgin Olive oil
and can avail vitamin E for the protection of cell constituents from oxidative damage.
Well, as you can see, there are many health benefits you can get from this food.
Now, let's learn the preparation procedure,
First off, please note the ingredients –
2 chicken breasts
2 tablespoons extra-virgin olive oil
salt and pepper
a squeeze of lemon juice
Procedure –
Slice the chicken breasts in very thin pieces. Make it even thinner with the help of a meat pounder. After that, cook the chicken. Make sure to keep the temperature low and cover the pan for couple of minutes until the chicken turns golden brown. After that, season with salt and freshly ground pepper and top it with extra-virgin olive oil and a squeeze of lemon to serve. That is it!
Ad blocker interference detected!
Wikia is a free-to-use site that makes money from advertising. We have a modified experience for viewers using ad blockers

Wikia is not accessible if you've made further modifications. Remove the custom ad blocker rule(s) and the page will load as expected.