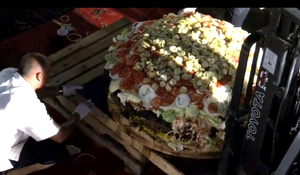 Over the 4th of July weekend a new record was set. The world's largest commercially available hamburger was made at the Alameda County Fair in California. The hamburger weighed 777 pounds. Officials from the Guinness Book of Records were at the event to verify the record was broken. The previous record holder was Canada with a burger weighing in at 590 pounds.
According to SF Eater , it took a crew of 10 men 13 hours of preparation and cooking to prepare the burger. After the meat was cooked it had to be moved by a fork lift onto the bun. The hamburger was cut up and bites of it were sold for 99 cents each and proceeds went to the Alameda County Food Bank.
The Burger Stats:
110 pound bun
Buckets of ketchup and mayonnaise
13 pounds of lettuce
20 pounds of onions
12 pounds of pickles
About 600 pounds of meat
Over a million calories
Would you want to try this burger?
Check out this video of burger construction!
Sources:
Ad blocker interference detected!
Wikia is a free-to-use site that makes money from advertising. We have a modified experience for viewers using ad blockers

Wikia is not accessible if you've made further modifications. Remove the custom ad blocker rule(s) and the page will load as expected.