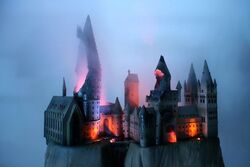 In honor of New York's premiere for Harry Potter and the Deathly Hallows, Charm City Cakes created a very special Hogwarts cake, half-destroyed by the Death Eaters during the Battle for Hogwarts.
They even have an option for lighting! Rupert Grint had the honor of cutting the first slice during the premiere event. I wonder which part he cut! The cake is quite detailed...but do you think it looks delicious? Would you want a Hogwarts cake?
Ad blocker interference detected!
Wikia is a free-to-use site that makes money from advertising. We have a modified experience for viewers using ad blockers

Wikia is not accessible if you've made further modifications. Remove the custom ad blocker rule(s) and the page will load as expected.