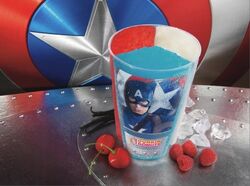 Are you a Marvel or superhero fan? Are you psyched for Fourth of July and want to showcase your patriotism? You're in luck, because Dunkin' Donuts is giving you a chance to do both! To promote the first Avengers movie, Captain America, Dunkin Donuts is rolling out some patriotic-themed goodies and drinks, just in time for Fourth of July!
Check out these patriotic doughnuts and tri-colored Captain America coolatta drinks from Eater.com. Do they appeal to your patriotic taste buds?
Gallery
Ad blocker interference detected!
Wikia is a free-to-use site that makes money from advertising. We have a modified experience for viewers using ad blockers

Wikia is not accessible if you've made further modifications. Remove the custom ad blocker rule(s) and the page will load as expected.