On the night of the most recent Underground Market, the San Francisco Department of Public Health served a cease and desist order on Forage SF, the organization that puts together the amazing Underground Market every month. A growing San Francisco institution, the Underground Market has gotten so popular that almost every major city in America is organizing their own version, while the original in SF serves over a thousand visitors per market, including myself.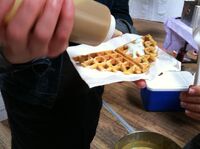 There's been a huge fuss in the foodie community in San Francisco, protesting the cease and desist order and wondering about the future of our beloved Underground Market. The uproar has reached even the ears of the New York Times, a publication that has long followed the fringe food movement in San Francisco and elsewhere.
While we may see the Market as a win-win situation where vendors who simply don't have the time or money to showcase their exquisite food at a traditional market can feed masses of eager foodies, health experts and officials see it as a breeding ground for food poisoning.
"They have significantly changed the scope of their operations," raising health concerns, said Dr. Rajiv Bhatia, the director of environmental health for the health department. "If you have untrained vendors selling food to 1,200 people, you have a high-risk situation."
Although there hasn't been any reports of a food-related illness stemming from the Market, the sheer size means that it's no longer a little club for members, but rather a full-blown establishment. The question is, how can we stop the Underground Market from closing? I know that I need my fix every month!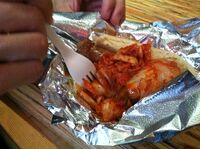 The founder of the Underground Market, Iso Rabins, is in works to perhaps get a license and move the foodie movement to the next step: "He plan[s] to meet with the city attorney to discuss how the market might be "legitimized," possibly by establishing a communal commercial kitchen. It's a chance to take the next step," he said. "It's an opportunity to start a conversation."
Let's hope that the Underground Market can be resurrected, even if it's called something else. Although there is something rather appealing about sampling forbidden food at a "covert" operation, isn't there? It sweetens the deal.
For more information on Forage SF, follow @forageSF on Twitter! Be sure to read my roundup of the best of the best from the most recent Underground Market!
Ad blocker interference detected!
Wikia is a free-to-use site that makes money from advertising. We have a modified experience for viewers using ad blockers

Wikia is not accessible if you've made further modifications. Remove the custom ad blocker rule(s) and the page will load as expected.