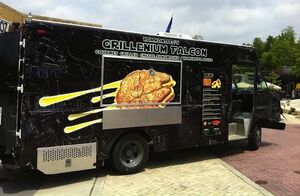 I found this blog at Eater.com and thought I'd share it with everyone.
Is the Grillenium Falcon the coolest food truck in the galaxy or what?
The truck is run by Hammontree Take Home Gourmet from Fayetteville, Arkansas. Offerings include sandwiches, soups and salads from the cafe.
One sandwich in particular is called the "Cheebacca," which is sharp white cheddar, a house cheese, bacon, pulled pork, grilled onion and garlic cilantro sauce on sourdough. Something tells me it's nice and "chewy".
If you like cheese, then we have lots of great cheese recipes for you!
And may the cheese sandwich be with you...
References
Source: eater.com
Ad blocker interference detected!
Wikia is a free-to-use site that makes money from advertising. We have a modified experience for viewers using ad blockers

Wikia is not accessible if you've made further modifications. Remove the custom ad blocker rule(s) and the page will load as expected.