Save your money for the weekends and eat cheap during the week! Skip expensive nights out Sunday through Thursday nights and opt to cook at home instead. It can be hard to find interesting, gourmet meals to eat at home, but we have gathered some economical recipes to help you save money AND keep your taste buds happy.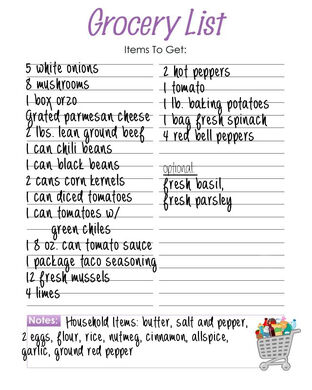 Click on the list above to print it! Remember to adjust the serving sizes according to how many people you are cooking for.

1. Italian Night: Spinach Gnocchi
Tip: Gnocchi is a great dish to serve at a party because it is cheap to make, but fancy so it will impress your friends.

2. Mexican Night: Slow Cooker Taco Soup
Tip: This is a great weeknight dish because you can pour the ingredients into the slow cooker before work and have dinner ready by the time you get home! Also, using canned vegetables is a cheap and easy option.

3. Greek Night: Dolmas
Tip: This dish uses a lot of spices so it is really flavorful even though the two key ingredients are plain and simple.
4 . Pasta Night: Orzo with Mushrooms and Onions
Tip: This is a really inexpensive dish that is easy to make in bulk. It also keeps well so you can bring it for lunch the next day!

5. Seafood Night: Peruvian-style Mussels
Tip: Treat yourself without breaking the bank. Mussels are surprisingly inexpensive, costing only a few dollars per pound.
---
---
Ad blocker interference detected!
Wikia is a free-to-use site that makes money from advertising. We have a modified experience for viewers using ad blockers

Wikia is not accessible if you've made further modifications. Remove the custom ad blocker rule(s) and the page will load as expected.