Save your money for the weekends and eat cheap during the week! Skip expensive nights out Sunday through Thursday nights and opt to cook at home instead. It can be hard to find interesting, gourmet meals to eat at home, but we have gathered some economical recipes to help you save money AND keep your taste buds happy.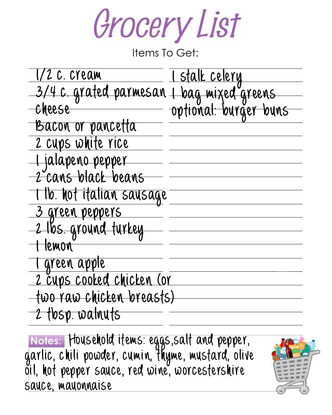 Click on the list above to print it!
1. Pasta Night: Pasta Carbonara
Tip: Pasta is always a cheap option, but try to spice it up from your typical pasta and tomato sauce with this Carbonara dish.

2. Sausage Night: Frank Sinatra's Sausage and Peppers
Tip: Sausages are cheap, can feed a large crowd, and they are flavorful! There are so many different types of sausage, so you can mix it up every week.

3. Salad Night: Waldorf Chicken Salad

Tip: Eating inexpensively doesn't mean you have to eat unhealthily. Serve this Waldorf chicken salad on top of a bed of greens.
4 . Mexican Night: Healthy Black Bean and Rice Salad
Tip: This is a flavorful, Mexican-inspired dish that is perfect for leftovers. It keeps well so bring it to lunch at work the next day or have it as a side dish for tomorrow night's dinner!

5. Burger Night: Turkey Burgers in Chili Sauce
Tip: Burgers are a crowd pleaser, but this recipe is great because ground turkey meat is both inexpensive AND healthier than beef burgers.
---
---