It can be difficult to stay motivated to eat healthy every night of the week. Maybe you are exhausted from work, don't have the right ingredients, or don't know enough about cooking to create healthy meals for yourself. Here is a healthy eating plan and grocery list to help you stay on top of your weeknight meals!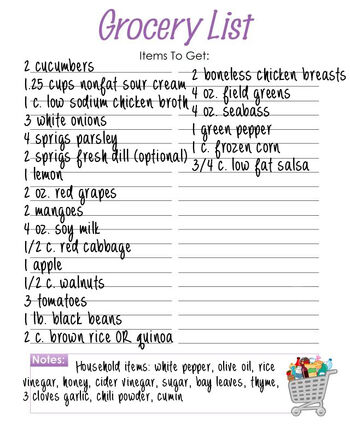 1. Soup Night: Cold Cucumber Soup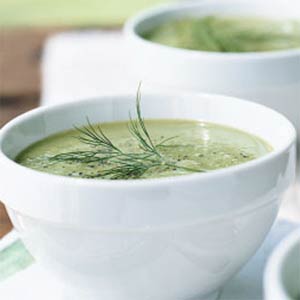 TIP: Make soup at the beginning of the week and use it as a side dish or lunch meal for the rest of the week.

2. Quick Dinner Night: Fast Pilaf
TIP: Brown rice, quinoa, and farro are great substitutes for white rice.

3. Southwest Night: Southwestern Chicken
TIP: Use chicken breasts instead of chicken thighs or legs because white meat is more lean.

4. Salad Night: Red Belgian Cabbage Salad
TIP: While nuts are fatty, they are really good for you. Sprinkle a few into your salad for a healthy touch!

5. Fish Night:Sea Bass and Mango Field Green Salad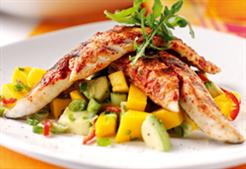 TIP: Grilling and baking instead of pan frying are healthier ways to cook fish and poultry.
Ad blocker interference detected!
Wikia is a free-to-use site that makes money from advertising. We have a modified experience for viewers using ad blockers

Wikia is not accessible if you've made further modifications. Remove the custom ad blocker rule(s) and the page will load as expected.