We decided to mix it up this week with a healthy soups and salads menu! You should be able to eat healthy during the week, so here are some quick lunch/dinner ideas you can make ahead of time or on the night of. Enjoy!


1. Homemade Turkey Soup
TIP: Use whole wheat pasta and all white turkey meat for this soup.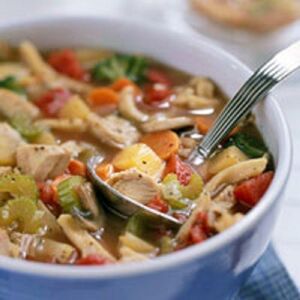 2. Mesclun Salad with Radishes, Avocado and Blood Oranges
TIP: Skip the blue cheese in this recipe for a lower fat alternative.
3. Kale Soup with Soy and Lime
TIP: Use low-sodium broth to control the salt content of your soup.
4. Asparagus with Walnuts and Vinaigrette
TIP: Toast almonds instead of walnuts because they are lower in fat.
5. Chickpea and Lentil Soup
TIP: Chickpeas and other beans are high in protein!
Check our more healthy dinner blog posts here!
Ad blocker interference detected!
Wikia is a free-to-use site that makes money from advertising. We have a modified experience for viewers using ad blockers

Wikia is not accessible if you've made further modifications. Remove the custom ad blocker rule(s) and the page will load as expected.