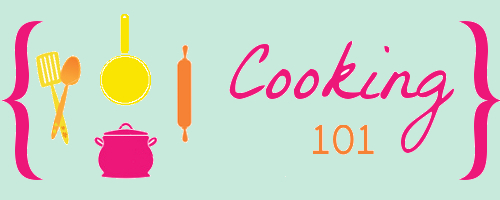 What is a Spice?
A spice is a dried seed, fruit, root, bark, or vegetable substance primarily used for flavoring, coloring or preserving food. A spice is often used to enhance a recipe or to make something bland more flavorful.
Even though herbs are also used for flavoring or garnish, they are very different from spices. An herb is a part of a leafy green plant, such as Rosemary or Basil.
Types of Spices
There are dozens of spices, but here are twelve of the most commonly used household spices.
Tips & Tricks
Store spices in airtight containers away from direct heat and sunlight so they can keep their essential oils and flavor
When you open a bottle of spices, mark the date so you can keep track of how long it will last (whole spices last 3 years, ground spices 1 year)
If possible, buy whole spices and ground them before you want to use them.
Grind spices with a microplane or a coffee grinder.
Buy spices in bulk if you can because they are typically more fresh.
Complimentary Spices
Hot — chili peppers, cilantro, cumin, garlic
Pungent — celery powder, chili peppers, cumin, curry, ginger, black pepper
Spicy — cinnamon, ginger, black pepper, star anise
Sweet — allspice, anise, cinnamon, cloves, nutmeg
Related Recipes
Spice Up Your Appetizers
Give your appetizers a little kick- add a pinch of cayenne here, a teaspoon of cinnamon there, and watch your boring appetizers come to life. Here are some of our favorite spiced up appetizers!
Recipes:Spiced Nuts, Spicy Deviled Eggs, Down and Dirty Apple Chutney Dip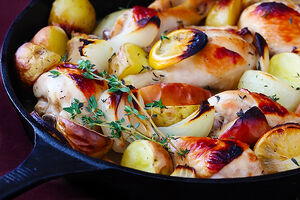 Spiced Up Chicken
Spices are the easiest way to make your bland chicken go from drab to fab. Dried herbs work well too, but use spices to get that extra kick in your recipes!
Recipes:Spicy Chicken Stew,Chicken Curry with Potatoes, Baked Chicken and Apples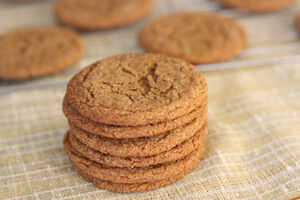 Desserts with Spices
Spices don't have to be exclusively for savory dishes! They work really well in desserts. Cinnamon, nutmeg, and star anise in particular- but even spices like cayenne and ground ginger work really well.
Recipes:True Spice Cookies, SPICE CAKE, Cinnamon Apple Coffee Cake
---
---
Ad blocker interference detected!
Wikia is a free-to-use site that makes money from advertising. We have a modified experience for viewers using ad blockers

Wikia is not accessible if you've made further modifications. Remove the custom ad blocker rule(s) and the page will load as expected.