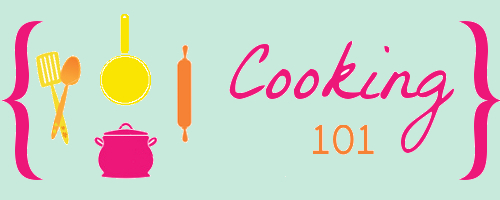 What is a Sauce?
In cooking, a sauce is liquid, creaming or semi-solid food served on or used in preparing other foods. Sauces are not normally consumed by themselves; they add flavor, moisture, and visual appeal to another dish.
Recipes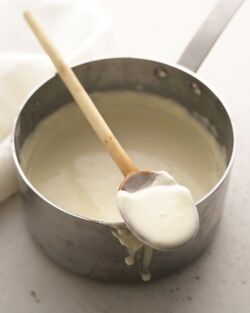 Basic Béchamel Sauce
Béchamel sauce is a creamy flour-based sauce that is commonly found in pasta dishes. This is a basic sauce that is good to have on hand!
Dishes: Macaroni & Cheese, Croque Monsieur, Lasagne
Barbecue Sauce
Barbecue Sauce is the perfect sauce for summertime because you can put it on anything- chicken, ribs, sandwiches, veggies, and more. Make it in big batches and save it for your summer parties!
Dishes: Barbecued Chicken with Sweet Vinegar Sauce, BBQ Pork Chops, BBQ Prawns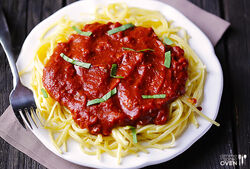 Marinara Sauce
Everyone should know how to make marinara sauce. Do not skimp and buy the jarred sauce from the store- marinara sauce could not be easier (or cheaper) to make. It freezes well, is great on pasta, chicken, pizza, and more! 
Dishes: Penne Primavera, Margherita pizza
Ad blocker interference detected!
Wikia is a free-to-use site that makes money from advertising. We have a modified experience for viewers using ad blockers

Wikia is not accessible if you've made further modifications. Remove the custom ad blocker rule(s) and the page will load as expected.