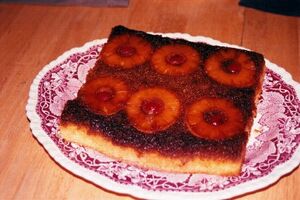 Of this genre, the most popular is undoubtedly the traditional pineapple upside-down cake. Any fruit can be used, however, and this dessert is made by covering the bottom of a cake pan with butter and sugar topped with decoratively arranged fruit, then cake batter. During the baking process, the sugar, butter and fruit juices combine to create a Caramelized glaze. Before serving, the cake is inverted onto a serving plate so the glazed fruit becomes the top of the cake.
Ad blocker interference detected!
Wikia is a free-to-use site that makes money from advertising. We have a modified experience for viewers using ad blockers

Wikia is not accessible if you've made further modifications. Remove the custom ad blocker rule(s) and the page will load as expected.