Description
Edit
This salad is the most known Turkish salad.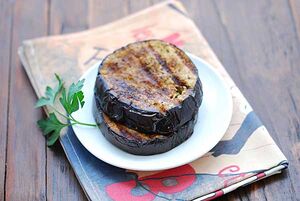 Ingredients
Edit
Directions
Edit
Cook unpeeled Eggplant until it is charred on the outside & the flesh is thoroughly soft. Cool slightly & then peel. Wipe clean & squeeze out all the water. Place Eggplant in a bowl with the lemon juice & salt. Mash well. Add olive oil garlic & vinegar blend thoroughly. Serve on a plate garnished with tomato Onion & .
Other Links
Edit
See also
Edit
Ad blocker interference detected!
Wikia is a free-to-use site that makes money from advertising. We have a modified experience for viewers using ad blockers

Wikia is not accessible if you've made further modifications. Remove the custom ad blocker rule(s) and the page will load as expected.