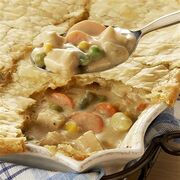 Cook Time: 45 min
Serves: 4-5
Ingredients
Edit
1 Frozen store bought pie crust or homemade pie crust (edges covered if already baked)
2 c (or so) cut up turkey leftovers
4 boiled potatoes, mashed
Directions
Edit
Pre-heat oven to 350.
Stir froxen veggies, chicken broth, and cut up turkey together.
Put mixture into pie crust.
Spread mashed potatoes over mixtute to cover, season w/ salt and pepper.
Leave a few holes for steam to escape around the edges of the mashed potatoes.
Put on a baking sheet and into the oven for 45 minutes or until mashed potatoes are browned.
Ad blocker interference detected!
Wikia is a free-to-use site that makes money from advertising. We have a modified experience for viewers using ad blockers

Wikia is not accessible if you've made further modifications. Remove the custom ad blocker rule(s) and the page will load as expected.