Description
Edit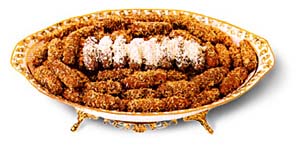 Coconut dates
This recipe is for 2 cups.
diabets
Ingredients
Edit
Directions
Edit
In a pan, melt the butter, add pitted dates and stir well over low heat; dates should not stick to the sides of the pan.
Remove from stove top; add the cardamom and leave to cool.
Take small piece of date dough, place an almond in the center and roll into a finger shape.
Repeat using all of the date dough.
Roll each date finger in the coconut and arrange on a serving dish.
Ad blocker interference detected!
Wikia is a free-to-use site that makes money from advertising. We have a modified experience for viewers using ad blockers

Wikia is not accessible if you've made further modifications. Remove the custom ad blocker rule(s) and the page will load as expected.