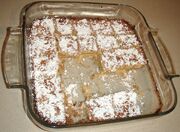 Jeanne has provided a very tasty Lemon Bars recipe that, as it turns out, appears to be an Omani dessert. Her recipe is for only half the size, and without a glaze.
Ingredients
Edit
1 Cup of Flour
1/4 Cup of confectioner's sugar
1/2 Cup of butter
2 Eggs
1 Cup of sugar
2 Tbsp of flour
1/2 Tsp of baking powder
1 Tbsp of fresh lemon rind
2 Tbsp of fresh lemon juice
Confectioner's sugar
Directions
Edit
Combine flour and confectioner's sugar.
Cut in butter with pastry blender.
Press into 8" square pan, to form crust.
Bake at 350 degrees for 20 minutes.
Beat eggs until foamy.
Blend in sugar, flour, baking powder, lemon rind & juice; Mix Well.
Pour over crust.
Continue baking 20–25 minutes.
Cool.
Dust with confectioner's sugar.
Cut into bars.
Should yield two dozen.
Ad blocker interference detected!
Wikia is a free-to-use site that makes money from advertising. We have a modified experience for viewers using ad blockers

Wikia is not accessible if you've made further modifications. Remove the custom ad blocker rule(s) and the page will load as expected.