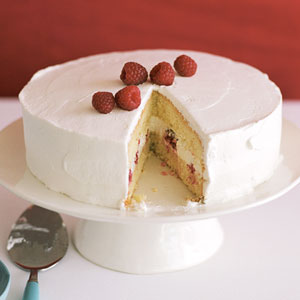 Description
This is easy to prepare and takes maximum 40 minutes. It serves about 12 people.
Ingredients
Edit
Directions
Edit
Preheat oven to 350 degrees.
In a separate bowl combine flour and baking powder.
Alternately add the flour mixture and the milk mixture to the butter mixture (a fourth at a time) until all are combined.
Beat until smooth after each addition.
Beat egg whites with cream of tartar until soft peaks form and, using a large spatula, gently but thoroughly fold into flour-and-butter mixture.
Grease bottom of a 9- by 13-inch metal baking pan.
Pour in batter and bake for approximately 25 minutes, until golden brown.
Allow to cool. (May also be baked in an 11.5- by 17.5-inch sheet pan for 20 minutes; this size rises very evenly, helpful for inexperienced cooks.)
When cake is cool, slice or peel off the thin top crust.
Pour milk mixture evenly over top of cake (if necessary, poke holes in cake with a knife or toothpick to facilitate soaking; you will probably need only 3/4of mixture).
Finish icing top.
Refrigerate.
Ad blocker interference detected!
Wikia is a free-to-use site that makes money from advertising. We have a modified experience for viewers using ad blockers

Wikia is not accessible if you've made further modifications. Remove the custom ad blocker rule(s) and the page will load as expected.