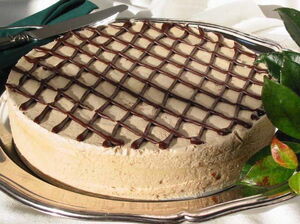 Hailing from Italy, this rich frozen dessert consists of sweetened whipped cream (sometimes ice cream) flavored with spirits such as Sherry or Rum and combined or topped with chopped almonds or Macaroon crumbs. This dessert is often called biscuit tortoni, especially when served in small paper cups.
Ad blocker interference detected!
Wikia is a free-to-use site that makes money from advertising. We have a modified experience for viewers using ad blockers

Wikia is not accessible if you've made further modifications. Remove the custom ad blocker rule(s) and the page will load as expected.